Complete Powerpoint slide presentation for training forklift operators
company fined after worker falls from unsecured stillage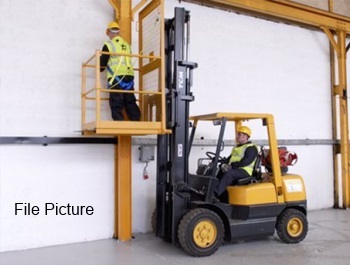 A carpentry and joinery company has been fined after a man working unsecured on the forks of a fork-lift truck fell 3.5 metres to the ground.
On 14 June 2021, the man was working for Staircraft Group Limited at their head office site at Bayton Road Industrial Estate, Exhall, Coventry.
The employee was working from an unsecured stillage on the forks of a fork-lift truck in order to clean office windows at height.  The stillage tipped and the employee fell 3.5 metres to the ground.  As a result of the incident, he sustained a broken leg and an injury to his elbow.
An investigation by the Health and Safety Executive found the company failed to identify that using a stillage to lift someone on the forks of a forklift truck, a method that they had used before, was unsafe.  There was a lack of training for employees on the dangers of working at height without the proper equipment and there were no systems of work or risk assessments in place.
At Redditch Magistrates' Court Staircraft Group Limited, of Bayton Road Industrial Estate, Exhall, Coventry pleaded guilty to breaching Section 2(1) of the Health and Safety at Work Regulations 1974 and was fined £200,000 and ordered to pay costs of £6,477.93.
Speaking after the hearing, HSE inspector Rebecca Whiley said: "The employee's injuries were very serious, and he could have easily been killed.
"This serious incident could so easily have been avoided by simply carrying out correct control measures and safe working practices.
"Companies should be aware that HSE will not hesitate to take appropriate enforcement action against those that fall below the required standards."
Webmaster's note:- A picture of a correctly designed working platform is shown
Disclaimer: The legislative information contained on this web site is my interpretation of the law based on many years in the health and safety business. A definitive interpretation can only be given by the courts. I will therefore not be held responsible for any accident/incident/prosecution arising as a consequence of anyone using any information obtained from this web site.