Complete Powerpoint slide presentation for training forklift operators
worker breaks back in 2 ft fall from forklift truck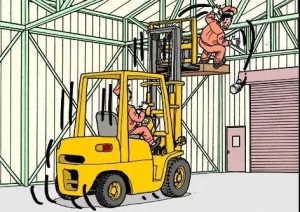 A logistics company has been fined £400,000 after a worker broke his back when he fell from a forklift truck.
The injured man was one of two employees who were loading a shipping container at freight forwarders Reliable Shipping Limited, on the Severalls Industrial Estate, Colchester, ready for it to be dispatched on 26 September 2019.
To reach the highest pallets inside the container, the man who was hurt had been lifted up on the forks of the forklift to stack boxes on top of an already wrapped pallet. He fell approximately two foot and landed on the corner of a pallet on the floor resulting in multiple spinal fractures.
The Health and Safety Executive found that Reliable Shipping Limited had no safe system of work for loading and unloading the containers, and it did not have appropriate work-at-height equipment. The company had a risk assessment for working at height, but it was not suitable nor sufficient and did not correctly assess the working environment or correct control measures.
Reliable Shipping Limited, of Severalls Industrial Park, Colchester, Essex pleaded guilty to breaching Section 2(1) of the Health and Safety at Work etc. Act 1974. The company appealed against a fine of £500,000, which was reduced to £400,000 at Chelmsford Magistrates' Court on 23 September 2022. The company was ordered to pay £6,336 costs.
In sentencing, District Judge King said that even those who weren't familiar with health and safety would know that this was an accident waiting to happen and it was only good fortune that the injured person was not paralysed or killed.
Speaking after the hearing, HSE inspector Carla Barron, said: "Those in control of work have a responsibility to undertake suitable and sufficient risk assessments, devise safe methods of working and to provide the necessary equipment, information, instruction and training to their workers.
"This incident could so easily have been avoided by simply planning the work and providing the correct control measures and safe working practices."
Disclaimer: The legislative information contained on this web site is my interpretation of the law based on many years in the health and safety business. A definitive interpretation can only be given by the courts. I will therefore not be held responsible for any accident/incident/prosecution arising as a consequence of anyone using any information obtained from this web site.