Complete Powerpoint slide presentation for forklift instructors. Ready made training course
all about the telehandler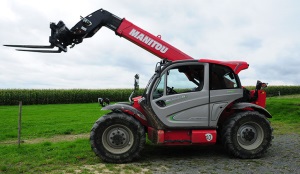 This article is by Advanced Fork Truck Training and is a basic guide to telehandlers or telescopic forklift. (Co-incindently the very last course I conducted before retirement was on the model shown).
When it comes to versatility, the telehandler (telescopic forklift)  is a winner every time. As well as being able to lift extremely heavy loads, these machines can extend and retract their telescopic forks to gain additional reach and lift height. Whether you need to organise pallets, shift loose sand, or lift personnel to a required working height, a telehandler can probably help.
Also known as telescopic handlers, reach forklifts or telescopic forklifts, telehandlers are great for lifting pallets, and some chain-suspended loads. They also allow you to access awkward locations. Some, but not all, telehandlers offer additional versatility with the ability to rotate while secured on outriggers. Telehandler training is required in order to operate all of these versatile machines.
Telehandler versatility
There are two main factors that work to make telehandlers so versatile. The extendable boom gives an increased degree of reach, and works in combination with an impressive range of exchangeable attachments, to give these outdoor lifting machines far more capability than a traditional fork truck. This high level of adaptability means that telescopic forklifts can often perform tasks that might previously have required multiple machines.
When you should use a telehandler
The adaptability of the telehandlers gives them a wide range of uses on both industrial and agricultural sites. Their main benefit is their ability to take a load from a low delivery vehicle, transfer it across a site, and place it safely to a high location.
Most often used to lift pallet loads, a telehandler can also be used in some situations where a crane or elevated work platform might previously have been required. Telescopic handlers have a range of features that allow them to cope with a wide variety of terrains and sites. They are extremely capable, and can often access areas where conventional fork trucks might not be permitted.
How to pick the right telehandler for the job
It's vital to select a specification of telescopic handler that will give the safest load handling for the type and size of load to be transported, as well as being suitable for the operation environment. Required height of lift, load weights, and manufacturers recommendations should always be taken into account.
Although telescopic handlers are often associated with larger sites, compact models are available. These can deliver more power and provide more reach than a traditional forklift, at the same time as accessing tighter spaces.
Other considerations when selecting a telehandler include space restrictions, boom size, attachment availability, and terrain. To ensure safe and efficient telescopic handler use you should always consult carefully with your machine supplier, and refer to load charts.
Different telescopic handler attachments
Although the most common type of telescopic forklift attachment is the traditional fork carriage, there are plenty more options available. Your choice of telehandler attachment will depend on the specific tasks you need to carry out. To ensure compatibility, it's really important to consult with the telehandler manufacturer before selecting third party attachments.
Side-shift, side-tilt and swing fork carriages will help where precise load placement is required. A crane jib attachment will allow you to carry suspended loads, whereas a bucket attachment will easily clear up and transport loose materials. If your personnel need to gain access to awkward areas of height, a telehandler can also be fitted with a safe work platform.
Operating a telescopic forklift
As with any load transportation equipment, the use of telescopic handlers carries an element of risk. The two main hazards to be aware of are side-to-side stability and pedestrian visibility. A level telehandler will retain a stable centre of gravity as loads are lifted but a sideways slope position can risk tipping. Some boom positions or larger loads can restrict visibility but the correct use of secondary aids can reduce risks associated with this.
All telehandler operators need proper telescopic handler training to gain required training certification. As with any heavy machinery, detailed site planning is necessary to identify tasks and hazards, assess risks, and develop methods to mitigate these risks. The responsibility for this planning lies with the employer who must also record it and communicate it effectively to operators and other parties involved.
It's important to remember that operators will also require professional training in the fitting and use of different telescopic forklift attachments. Some types of load transportation, for example suspended loads, require enhanced load planning. Because of this, it's worth bearing in mind that a telehandler may not be the most suitable machine for a particular task.
Telehandler training
If you are considering taking advantage of the versatility and capability of the telehandler, you need to put high-quality training at the top of your priority-planning list. For this and all your forklift-training requirements, we offer Association of Industrial Truck Trainers (AITT) accredited courses for all members of your team. Get in touch today on 01438 222157 for a friendly chat, and a free, no-obligation quote.
Disclaimer. The legislative information contained on this web site is my interpretation of the law based on many years in the health and safety business. A definitive interpretation can only be given by the courts. I will therefore not be held responsible for any accident/incident/prosecution arising as a consequence of anyone using any information obtained from this web site.