Complete Powerpoint slide presentation for forklift instructors. Ready made training course
application, reputation, paperwork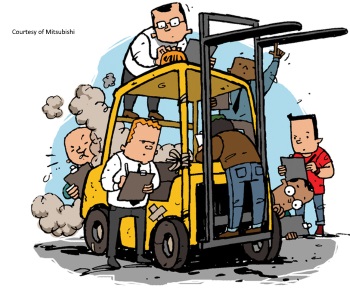 Some of the first things to check are suitability for your application, truck and dealer's reputation and the dreaded paperwork. Treat it as if you were buying a car.
1. Is the truck suitable for the application?
Whether you have already decided to purchase used or not, ask at least three dealers to carry out site surveys and quote for both new and used. Note that you would expect the sales person to insist on seeing all parts of the application and probably be taking copious notes.
When quoting used trucks, some dealers will quote based on what they hold in stock rather than trucks specifically suited to your application. By contrast, dealers will often detail the optimal truck for your operation when quoting for a new machine.
By getting both new and used quotations, you can easily compare the two and query any variances, including capacity, mast height and truck type.
2. Look for reliable names
Choose a well-known manufacturer that has an established reputation for reliability as you can expect their trucks to have far fewer and less costly problems in later life and to retain more of their value in their new home. Opting for a reputable manufacturer increases a truck's residual value and improves your ability to source parts and service easily in the long term.
Likewise, always choose the most reputable dealer in your area. Just as your truck should be reliable, so should your dealer. To find those best suited to the needs of you and your business, always ask for references. For added protection, select a dealer who is a member of a trade body. Membership can be an indicator of a company's integrity and standards of customer service.
3. Check all the "paperwork" There should be:
CE mark on the truck
Identity plate (with manufacturer name and address) and capacity plate in correct language. (I've seen trucks without any)
CE Certificate in correct language
Operators manual for the truck, in correct language
Labels and warning on the truck in correct language
Make sure that the truck has a genuine CE mark which shows it's been approved for European use. With a growing number of 'rogue imports' on the market – without the CE mark – you could be stuck with a truck you can't sell, get parts for or, in the event of an accident, could even invalidate your insurance.
Disclaimer. The legislative information contained on this web site is my interpretation of the law based on many years in the health and safety business. A definitive interpretation can only be given by the courts. I will therefore not be held responsible for any accident/incident/prosecution arising as a consequence of anyone using any information obtained from this web site.