Complete Powerpoint slide presentation for forklift instructors. Ready made training course
used forklifts. hours, trial, leaks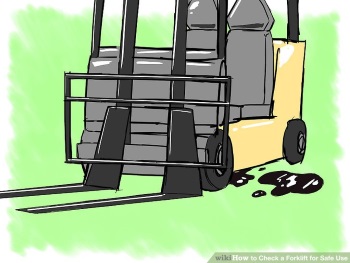 Having decided the forklift is right for your application and inspected the paperwork it's time for some more checks.
4. How many hours has the truck worked?

Always check the truck's hour-meter as you would with a car's odometer.
Consider what would you expect from a used car with 100,000 miles on the clock. Would you buy it?

Depending upon the environment, you would expect an average forklift truck to clock up around a thousand hours a year. Bear this in mind when assessing the forklift's condition.
I'm sure most forklift dealers are honest but it's a very simple operation to change a work hour meter on a forklift truck so also check the service records to see if they tie up with the hour meter reading.

5. Have a test run

Forklift trucks should always be inspected and given a test run prior to purchase. If you buy your second hand forklift truck on line be particularly careful.

If the truck has an engine it's essential that you start it from cold. Pay special attention to the ease of the engine when turning over and look out for excessive smoke levels.
To test the truck's performance in challenging situations, ask someone to manoeuvre the truck up the ramp in both forward and reverse making sure they are a qualified operator of course!
6. Check for leaks

Have the forklift parked on a clean area of floor, then run the engine for around 10-15 minutes. During this time, have a qualified operator operate all of the hydraulic functions.
Now move the truck and look on the ground where it was to see if there are any tell-tale fluid leaks. Even small leaks are important warning signs and can prove expensive to rectify, particularly transmission leaks.
Disclaimer. The legislative information contained on this web site is my interpretation of the law based on many years in the health and safety business. A definitive interpretation can only be given by the courts. I will therefore not be held responsible for any accident/incident/prosecution arising as a consequence of anyone using any information obtained from this web site.