Complete Powerpoint slide presentation for forklift instructors. Ready made training course
forklift training and the dreaded handbrake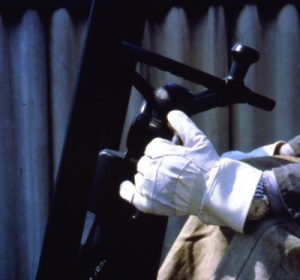 When the meeting closed I went to see Mr Fortnam and explained what had took place and he told me to carry on producing the 5 day course complying with the manufacturers handbook. We also had a chat about the trainability test which he left me to deal with. I was afraid it was all becoming a one man task.
So I pushed on with writing up the syllabus which would become the national standard and I also put together a Trainability Test. I borrowed the facilities to try it out from a company next door to our HQ. I had the use of their Montgomery Reid counterbalance truck during their lunch hour one day. It was not ideal but it was a start.
I wrote it up and mailed it off to Sylvia Downes. The following week the standards committee met again and this time the two Factory Inspectors came armed with an instruction from a senior person at the ministry of labour which stated that we would provide every assistance. I left the meeting and took it to Mr Fortnam and discovered that he had received a copy that morning.
He was very angry at interference at this level. Indirectly we were being instructed to modify how we trained operators to meet the whim of two civil servants who had never sat on a truck. I offered to rewrite what I had done and come up with a safer method to be used whilst providing basic training and he told me to go ahead.
I went back to the meeting and informed everyone present about what I was prepared to do. The two factory inspectors were delighted and we agreed to meet again when the rewrite was done. I then had to rack my brains for a solution to this problem and I came up with a system referred to as the Training Method of Load Handling, or referred to by some as handbrake snatching. (Webmaster: This is why to this day, an operator on test has to apply the handbrake when using the hydraulic controls - Honest!)
All I really did was to break down each separate function in handling loads and break them down into smaller functions and applying the parking brake on the truck on completion of each smaller function. The small functions should be easier for a novice to assimilate and the application of the parking brake, instead of relying on them holding the truck on its foot brake, gave both the trainee and the instructor a safe breather between functions. In truth I could not think of another alternative. I discussed it with Mr Fortnam and he said go ahead and do it. So I began my rewrite again.
Disclaimer The legislative information contained on this web site is my interpretation of the law based on many years in the health and safety business. A definitive interpretation can only be given by the courts. I will therefore not be held responsible for any accident/incident/prosecution arising as a consequence of anyone using any information obtained from this web site.