Complete Powerpoint slide presentation for forklift instructors. Ready made training course
Forklift Lighting requirements for road use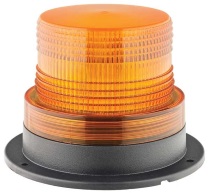 Forklift lighting requirements vary with maximum speed.
The requirements relating to the lighting of all vehicles used on the public road are contained in the Road Vehicles Lighting Regulations (RVLR). If the fork lift truck is not used on a public road then clearly the provisions of the RVLR do not apply.
If a fork lift truck is used on a public road between sunrise and sunset and is not fitted with any front or rear position lamp then it is exempt from having to be fitted with any lamp or reflector.
In general the forklift lighting requirements depend upon their maximum speed and the table below lists the requirements:
Maximum Speed
Types of lamp to be fitted
Any speed
Front position lamp
Rear position lamp
Rear retro-reflector
Greater thenm 15 mph
Front position lamp
Rear position lamp
Rear retro-reflector
Dipped beam headlamp
Direction indicator
Hazard warning signal device
Greater then 25 mph
As above but also with Rear fog lamp
Stop lamp
Greater then 40 mph
As above but with
Dim-dip device or running lamp (unless the vehicle conforms to European requirements)
Disclaimer. The legislative information contained on this web site is my interpretation of the law based on many years in the health and safety business. A definitive interpretation can only be given by the courts. I will therefore not be held responsible for any accident/incident/prosecution arising as a consequence of anyone using any information obtained from this web site.