site links
Complete Powerpoint slide presentation for forklift instructors. Ready made training course
controlled oil - Red diesel and forklift hire
IMPORTANT: The rules relating to the use of red diesel in forklift trucks are changing on 1st April 2022. For more information click here.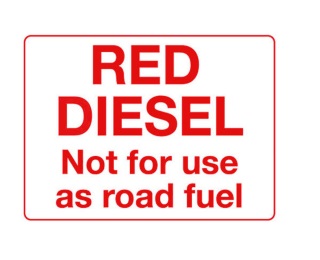 With effect from April 1st 2003 any business that deals in controlled oil - otherwise known as Red Diesel - must be approved and registered to do so by HM Customs and Excise. For the purposes of these regulations dealing includes passing on such fuel in the tanks of hired vehicles.
It is now illegal to use rebated oils such as red diesel in a road vehicle. To crack down on potential fraud rules require the distributors of such fuel to check that their customers are entitled to receive this fuel.
A fork lift hire company that hires out trucks with red diesel in their tanks is classified as a dealer for the purposes of this legislation. This applies even if a truck is supplied with just a single litre of fuel in the tank! As such a dealer the company must be approved. In order to do this the company must register with HM Customs and Excise. Registration is a one off requirement so that subsequent accounting for the fuel can be kept to a minimum.
Application to Plant Hire Businesses
Fork lift truck hire companies are plant hire businesses. When the new legislation was introduced the implications were not completely clear. At the request of a number of trade associations the situation has now been clarified by HM Customs and Excise. They have provided an RDCO information note X/03 and this is available through their National Advice Service on 0845 010 9000
Disclaimer. The legislative information contained on this web site is my interpretation of the law based on many years in the health and safety business. A definitive interpretation can only be given by the courts. I will therefore not be held responsible for any accident/incident/prosecution arising as a consequence of anyone using any information obtained from this web site.