Complete Powerpoint slide presentation for training forklift operators
warehouse fined £500k after forklift operator's death
A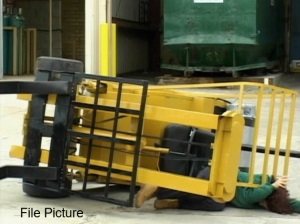 Manufacturing company, Barcode Warehouse Ltd, has been fined £500,000 after a man died when a forklift truck overturned. 
Jamie Anderson was killed when the forklift truck he was operating overturned at a depot in Newark on 4 June 2019.
The 35-year-old father of one, was found in the car park trapped under the roll cage of the vehicle. He had been using a counterbalance forklift truck to move waste material when it clipped a kerbstone at the edge of the roadway and overturned. He was not wearing a seatbelt.
The Health and Safety Executive found that The Barcode Warehouse Ltd failed to enforce the use of seatbelts by forklift truck operators. They should have properly risk assessed the use of forklift trucks on their premises and enforced the use of seatbelts. Instead, it was left to individuals to choose whether to wear a seatbelt or not.
At Nottingham Magistrates' Court on 8 November the Barcode Warehouse Ltd pleaded guilty to breaching Section 2(1) of the Health & Safety at Work Act 1974. They were fined £500,000 and agreed to pay costs of £7,039.55.
Speaking after the hearing HSE Inspector, Tim Nicholson said: "This tragic incident led to the avoidable death of a young man. Jamie's death could easily have been prevented if his employer had acted to identify and manage the risks involved and enforced the use of seatbelts by forklift truck operators."
Owners of The Barcode Warehouse said: "The Barcode Warehouse Limited's aim is for everybody to go home safe and well at the end of each day. We deeply regret the incident which occurred at our Telford Drive site in 2019 in which Jamie Anderson sadly suffered fatal injuries. We would again like to apologise to Jamie's family and friends who have been affected by this tragedy.
"We continue to strive to achieve the very best standards of health and safety and we are thankful to the Coroner who recognised that if we had been aware of the risk then we would have addressed it. This awful tragedy highlighted to us the importance of drivers wearing seatbelts at all times when using forklift trucks."
Webmaster: Check out all the current rules governing the fitting of seatbelts on forklift trucks
Disclaimer: The legislative information contained on this web site is my interpretation of the law based on many years in the health and safety business. A definitive interpretation can only be given by the courts. I will therefore not be held responsible for any accident/incident/prosecution arising as a consequence of anyone using any information obtained from this web site.