Complete Powerpoint slide presentation for forklift instructors. Ready made training course
trying to convince factory inspectors of the need for forklift training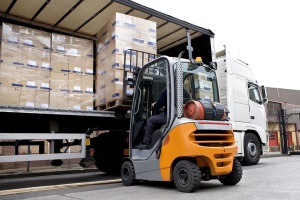 The two factory inspectors had held meetings with the British Industrial Truck Manufacturers Association, (BITA), and the European version, called FEM, (European materials handling federation), and asked them to change their method of handling and the outcome in both cases had been a blunt refusal.
The manufacturers stated that their method had been used in demonstrations world wide daily since the late 1940's and to date they were unaware of any reportable accidents involving a demonstrator. Further more their method of handling was approved under the British Construction and Use Regulations which stipulated stringent safety tests for fork lift trucks and the information provided in their manufacturers operator handbooks.
When I read the reports I could see how they had arrived at their conclusions and I suggested that a small alteration to the form that their inspectors had to complete may generate slightly different responses. For example I pointed out that the name of two manufacturers of Counterbalance truck figured significantly in these reports. In the trade these trucks were often referred to as beasts. One was a 3 wheeler on small pneumatic tyres driven by a petrol engine which could reach speeds of 20mph.
It is a 10ft lift truck fitted with an extremely sturdy 12 ft mast making it top heavy.
Without going into greater detail I can tell you from personal experience that it topples over very easily and has been quietly withdrawn from the market.
Unfortunately a good many are still in use. Another one uses very large robust and reliable electric motors so its bodywork makes it larger than comparable makes. It has no power steering assistance system and is extremely difficult to steer, especially when working in narrow aisles. Consequently operators get into awful difficulties, especially when attempting to stack or destack at height in narrow aisles.
Add to this the fact that whilst your reports make no comments on the matter, it is highly likely that the operators had received no formal training. In fact 2 of the fatalities happened whilst an operator was under some form of instruction!  In other words, as an experienced truck operator I can put a different interpretation on your reports.
I am afraid that very little achieved at that meeting and I was not popular with the two Inspectors. They said they were going to report our lack of cooperation to the ministry of labour. It was very noticeable that my immediate manager who was in the chair never took no part in any of the discussions. We arranged to meet again the following week.
Disclaimer The legislative information contained on this web site is my interpretation of the law based on many years in the health and safety business. A definitive interpretation can only be given by the courts. I will therefore not be held responsible for any accident/incident/prosecution arising as a consequence of anyone using any information obtained from this web site.