Forklift training website. free information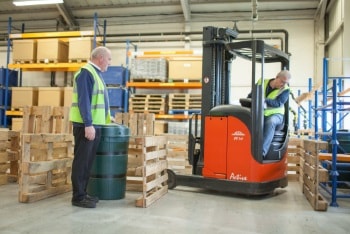 Welcome to this website which is devoted to forklift training. I was involved in the training of fork lift operators for more than thirty years and spent forty four years in the forklift industry starting behind the drawing board in 1970. Although now retired I still keep in touch and update this site, usually weekly. Please note this website does not use cookies.
This website has over 1000 pages and you will find a host of information about forklift trucks and forklift training including several complete, free, forklift training courses which cover all theory and practical lessons. There is also a section that describes the complete history of forklift training in the UK.
Suggestions are welcome and you can contact me from the link at the bottom of any page. If you want to know when this website is updated, please add your details when you see the popup. You will receive a free Powerpoint course on risk assessment and no more than one email a week, I promise.
You can learn all about the new forklift test, practical, written and pre use inspection, that came into force on September 1st 2017 at these pages. If you have taken a test since 1st September 2017, why not vote in my mini poll? I'll publish the results when there are sufficient numbers. Click above, right to vote,
I originally started this website in 1998 to correct some of the urban myths about forklift training. Since then it has grown rapidly and become a retirement project. It now covers a wide range of fork lift training related subjects. I have also taken the opportunity of including a lot of technical information relating to forklift trucks and covered information about the forklift test, forklift accidents and regulations imposed by the Health and Safety at Work Act and other legislation. You can also take a twenty question forklift operator written test here. If you are thinking of buying a forklift truck this section is for you.
The main links at the top of every page will take you to the appropriate section and each part is colour coded so you can see where you are on the site. There are links to the interactive site map at the bottom of every page and contact links also at the bottom. The sections are arranged as follows:
Forklift training. This section contains a lot of information on the subject and will be of interest to instructors and operators alike. There is also a lot of information for owners of forklifts who wish to keep up with the training side of things. Whether you want to know about the practical test, written test, training accreditation, refresher training etc. this is the section for you. You can take a sample written test here with real questions. (This is available in all common languages). The new, (2017), written test questions and answers are here again in all languages.
Free training courses. Loads of free forklift training courses are available for use by instructors, operators or supervisors and you can get to them individually via the links in the left margin. You can purchase my entire counterbalanced training slide set here. Everything else on this website is free.
Legislation. There is an enormous amount of legislation that is applicable to forklift trucks and all of it is detailed here. From health and safety law to using trucks on the public highway, medical considerations for forklift operators or the use of seat belts on forklifts it's all covered.
Forklift accidents. There are well over a hundred accidents detailed on this website. The accidents are real and from the U.K. and describe roughly what happened, what the result was and what the penalties were when the accident got to court. I update these regularly: usually every week. Follow me on social media to be kept informed of updates or enter your email in the popup.
Technical section. I used to teach forklift salesmen, product knowledge and produced lots of courses on how forklifts worked. Much of that is repeated here but updated. This section is not designed for engineers but is more simplified and hopefully written in a language that anyone can understand.
Forklift News section
As I learn about various things going on in the forklift industry I put them in this section. It could be new legislation relating to fork lift training or some amusing anecdote. There is also an archive section for older items and the latest items also have a link from the right margin of this page.
Health and Safety News
This section of the website gives information about Health and Safety news even though it is not directly about forklift trucks and forklift training. I limit this part of the website to closely related health and safety topics.
Forklift driving jobs. If you are looking for forklift driving jobs check out these pages where you will find thousands of job opportunities.
Forklift Safety Products. As I hear of new products that are designed to improve the safety of forklift operation I detail them on this page.
Forklift Buyer's Guide. If you are thinking of acquiring a forklift truck, check this section which contains lots of information for potential forklift truck owners and users.
Home page. From the page you are now on you have access to a lot of other miscellaneous pages that should prove useful. Check out my mini poll or have a look at the news items. Take part in the forum and post something. You don't have to register.
A couple of points to note. If you use the search box, try only one or two words as searches work better that way. Also try the interactive sitemap as it's been designed to get you to the correct page quickly.
If you find this website to be of use to you I would appreciate it if you would like this page by clicking one of the social network buttons which are on the side of every page. Such posts and links help me to promote the website in the search engines.
When arranging a training course for forklift operators remember, "There is nothing that cannot be done worse for less money". With apologies to John Ruskin for the miss quote. Happy training :-) Tony Sellick Back to top
site Search
forklift news
Can anyone suss out what's happening in this forklift accident video? More
April 16th 2018. A complete, free, manual handling training course is now available on this website. Here
April 11th. BITA and RTITB to collaborate on forklift training and safety. Read More
April 8th 2018. Workers sitting on forklift's counterweight are nearlly killed in this short video. More
FLTA held it's talent in logistics awards presentation at Telford on Saturday 24th February. Read More
March 28th 2018. Two companies fined after accident involving a telehandler. Read More
March 26th 2018. Due to overwhelming interest, the deadline for submitting nominations for the Talent in Logistics Awards 2018 has been extended until 30th March 2018 Enter Here
March 22nd 2018. Company fined one million pounds after driver killed in forklift accident. Read More
March 13th 2018. Enter the forklift instructor of the year competition here. Read More
March 7th 2018. RIDDOR. Reporting of accidents. Read More
March 1st 2018. RTITB launch forklift training app for Android. Read More
Feb 20th 2018. FLTA safety champion 2018 named as Sean Gilbert. Read More
Feb 13th 2018. Company fined after worker injured in telehandler accident. More